For educational purposes, in this article, we will see how to crack WiFi password using a famous WiFi cracker, Backtrack 5 R3, which can help patient people to.
| | |
| --- | --- |
| Author: | Vuzilkree Shaktitaur |
| Country: | Czech Republic |
| Language: | English (Spanish) |
| Genre: | Automotive |
| Published (Last): | 15 January 2017 |
| Pages: | 253 |
| PDF File Size: | 6.15 Mb |
| ePub File Size: | 13.3 Mb |
| ISBN: | 164-8-49056-940-5 |
| Downloads: | 44642 |
| Price: | Free* [*Free Regsitration Required] |
| Uploader: | Tuzuru |
Quick Steps installing Backtrack 5 to the hard drive. Finding a WPS enabled router is the wufu step this used to be hard to do until the "wash" command came along. Reaver does not attempt to take on the WPA encryption itself but goes around it using WPS and then displaying the password. Then click the link to the torrent and the client will download the file. The default username and password for Backtrack is root then toor.
The two main types of wireless hacks are WPA dictionary attack, and Reaver.
This will most likely be recorded by the router so this is not a passive method. VMware works very well and as long as you have a fairly recent computer it should run fine. To boot from the DVD put it into the computer drive and check the computer settings to boot from the disk.
There is a way to speed this up if you know someone has a wireless device connected to the router by de-authenticating them or kicking them forcing them to reconnect. The Backtrack 5 VMware Image file will have to be extracted and will create its own folder with a bunch of files in it.
Crack WiFi Password with Backtrack 5 ( WiFi password hacker)
The data capture could be copied between multiple computers to vacktrack the things up. Getting a handshake and getting a data wifi Commands used. Mainly because a ISO can be burned to a disk or any bootable device and booted from. There are plenty to be found at yard sales and swap meets on the cheap. After we do this we will have to wait for a wireless device to connect to the router and it will do a data capture. A dictionary attack is one of the easiest to understand but the least likely to find a password.
If a router has WPS enabled then cracking the encryption is no longer necessary. VMware Player can be downloaded here http: ISO burning software will backtdack needed. It can be any device their laptop, desktop or smart phone. We will be using aircrack to do the cracking and the command to do wiuf is: Run the command "airmon-ng" to see if your USB adapter shows up, if it doesn't then some troubleshooting as to why it is not will have to be done.
Open two terminal windows Run the command "airmon-ng" to see if your USB adapter shows up, if it doesn't then some troubleshooting as to why it is not will have to be done.
If something goes wrong the existing Operating System will be gone or damaged. Look for the WEP protected network in this tutorial we are taking "pack" as my target. Now you will need to find the WEP network around you,you can do it by typing the following command:.
Reaver Commands we will be using. To aifu this type the folllowing command and you need to speed up the process too. There is three ways to install Backtrack, install to the hard drive, boot off a DVD or flash drive, or run it in virtualization. Basically if you are running Windows and want to run a Backtrack 5 install at the same time you can do this with VMware.
You May Also Like: Smartphone Trends and Usage Statistics [Infographic]. The first thing we need to do is enable the wireless USB adapter.
How to crack Wifi password (WPA,WPA2) using Backtrack 5 In Windows 7,8,,10 ~ SoftFed
Reaver is one of the best tools to come along in a long time. Such as signal strength, a strong signal is almost a must. At this point we could simply wait for someone to connect wirelessly to the router. It is because most wireless chipsets do not support packet injections or the things required to do a wireless attack. For those who do not know VMware is a way to run another operating system virtually within another operating system. To see all the connected cards to your system backtraci type" iwconfig " or you can find it by typing " airmon-ng ".
Installing and running with VMware Running two operating systems at the same time is quite common now and done relatively easy. Backtrack 5 is free to download and install and can be downloaded here.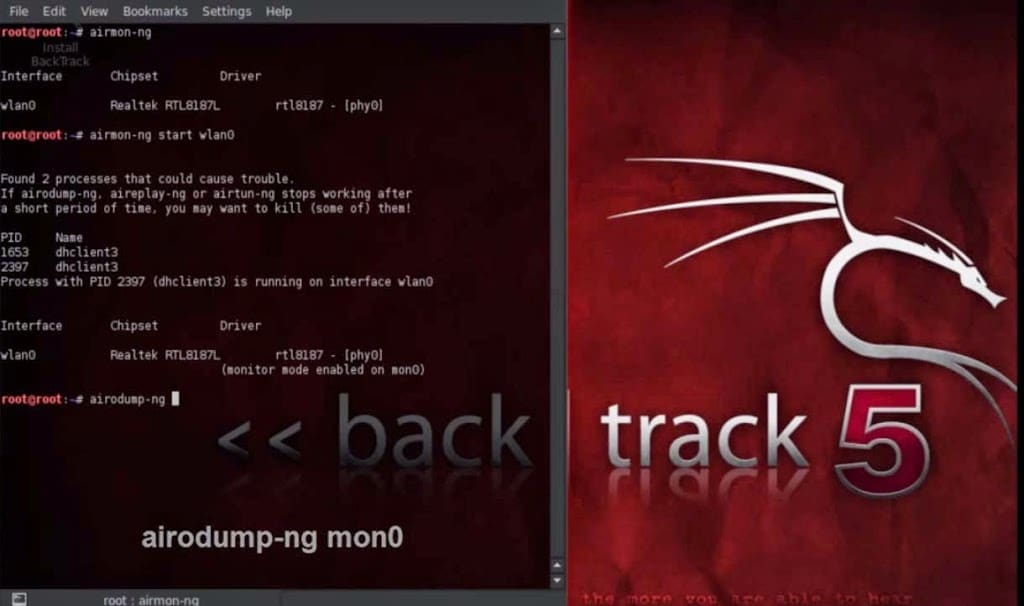 In the second terminal window run the following command. Installing Backtrack 5 to the Hard drive is the same as installing any Operating System, which most everyone is familiar with, by booting from a disk, choosing install and answering questions such as time, date, language, and formatting the disk.